Product
Filter
/
Filter
Reset Filter
MJUKIS CARGO TOURING WATERPROOF CE 17092 SWEATPANTS BIKER SOFT PANTS MC PANTS
Add To Cart
Shipping Class : DELIVERY : 15 EUR

DHL Home Delivery

Return within 30 days

Lowest price guarantee

Made to measure clothing
CARGO SWEATPANTS (WITH CE LEVEL-2 KNEE PROTECTION)
These comfortable sweatpants are equipped with Kevlar and offer maximum protection when you're out driving. Stop using big and uncomfortable clothes and ride instead in these comfortable, tight sweatpants. The pants are made of stretchy cotton-like material that provides a perfect fit.
The entire pant is covered with an inner membrane of DuPont™ Kevlar® fiber that provides complete protection. The trousers have also undergone a water treatment which means that the water runs off without penetrating the fabric. You no longer have to worry about rain when riding your motorcycle, these pants are also waterproof.
The water resistance is enough for about 10-15 washes and has a long-lasting effect. Be careful not to use detergent as it can reduce water resistance.
The trousers are also equipped with CE-approved level 2 knee pads and hip protectors, as well as several pockets for storage. Stretch panels above the knees provide increased mobility and comfort. The trousers are also extra stretchy for a perfect fit.
Fully covered with DuPont™ Kevlar® fiber
CE approved according to class A EN17092:2020 EN ISO 13688:2013 with LEVEL 2 AA protection
2 side pockets (with zipper for closure) and 2 back pockets
Extra stretch panels over the knees for increased mobility and comfort
Mesh pockets for protection
Level-2 CE knee protection
CE-approved hip protectors
Several pockets for storage
Heavy Duty Resistant - extra stretch for a perfect fit.
Note that this product is also offered as made-to-measure and therefore cannot be ordered as a regular size. The price applies to body sizes up to 3XL, for larger body sizes there is an additional cost of SEK 150 per size exceeded. The additional cost is calculated by an administrator from sharkspeed after receiving your body measurements. Delivery time is between 12 - 16 working days depending on seasonal load.
| | | |
| --- | --- | --- |
| Size/size | Waist - B (cm) | Stuss / Seat - C (cm) |
| XXS | 66.5-71.5 | 83-87 |
| XS | 71.5-76.5 | 87-91 |
| S | 76.5-81.5 | 91-95 |
| M | 81.5-86.5 | 95-99 |
| L | 86.5-91.5 | 99-103 |
| XL | 91.5-96.5 | 103-107 |
| 2XL | 96.5-101.5 | 107-111 |
| 3XL | 101.5-106.5 | 111-115 |
| 4XL | 106.5-111 | 115-119 |
| 5XL | 111.5-116.5 | 119-123 |
| 6XL | 116.5-121.5 | 123-127 |
| 7XL | 121.5-126.5 | 127-131 |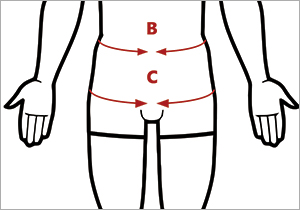 BUY MATCHING PRODUCTS - GET THE FULL LOOK