Product
Filter
/
Filter
Reset Filter
Search By Name
Sort
Price
Size
Display
LADY SNOWPEAK PINK OVERALL ATV/SNOWMOBILE CE ALL WEATHER TEXTILE SNOW SUIT
Shipping Class : Shipping : 15 EUR
Add To Cart

Fast shipping worldwide

Return within 20 days

Lowest price guarantee

Made to measure clothing
ATV / SNOW SCOOTER / SNOWMOBILE full rack adapted for the cool weather with maximum mobility. Waterproof with breathable membrane that keeps you dry and warm. Made of a combination of durable and lightweight materials for mobility and durability. Multiple ventilation openings with zipper for desired ventilation. An overall that has everything you could wish for. Perfect overall for ATV / Snowmobile / Snowboard / Skiing and all that's about Snowmobile to do. The construction is made to keep warm warmth without getting too clumsy.
- Detachable hood
- Heat lined with breathable membrane
- Waterproof inner pocket for storage of mobile phones etc.
- Detachable braces for a good fit
- Heated lining pockets
- Reflexes
- Floccrossed inner parts
- Ventilation pockets with mesh for maximum ventilation
- Removable CE protection
- Storm cuff entry with lycra extensions
- Multiple pockets for storage
- Long leg opening with zipper
- Warmtech chips for heat
- Waterproof with taped seams with water resistant zippers
Note that this product is also available for custom made to measure ordering. We recommend that you order this product for the best fit. The price is valid for body size up to 3XL, at a larger body size, an additional cost of 150 SEK per size exceeds. The additional cost is calculated by a sharkspeed administrator after receiving your body measurements. Delivery time is between 12-16 working days due to seasonal load.
| | | |
| --- | --- | --- |
| Storlek/size | A-Bröst / Chest (cm) | B Mage / Stomach (cm) |
| 3XS | 70-74 | 64-68 |
| XXS | 74-78 | 68-72 |
| XS | 78-82 | 72-76 |
| S | 82-86 | 76-80 |
| M | 86-90 | 80-84 |
| L | 90-94 | 84-88 |
| XL | 94-98 | 88-92 |
| 2XL | 98-102 | 92-96 |
| 3XL | 102-106 | 96-100 |
| 4XL | 106-110 | 100-104 |
| 5XL | 110-114 | 104-108 |
| 6XL | 114-118 | 108-112 |
| 7XL | 118-122 | 112-116 |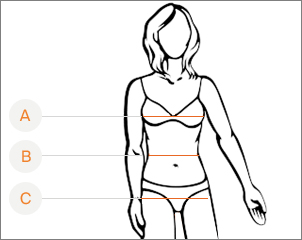 BUY MATCHING PRODUCTS - GET THE FULL LOOK