Product
Filter
/
Filter
Reset Filter
PREMIUM GRAVITY DARK OVERALL ATV/SNOWMOBILE CE ALLVÄDERSSTÄLL
Add To Cart
Shipping Class : DELIVERY : 15 EUR

DHL Home Delivery

Return within 30 days

Lowest price guarantee

Made to measure clothing
Premium serie innebär att produkten har utrustats med TOP OF THE LINE material och tillbehör. Man har även ändrat på standarden och lagt in premium tyg inne i overallen för en total mjukare känsla.
ATV / SNÖSKOTER / SNOWMOBILE helställ anpassad för kyliga vädret med maximal rörlighet. Vattentät med andningsmembran som håller dig torr och varm. Gjord av en kombination av slitstark och lättvikts material för rörlighet och slitstyrka. Flertals ventilationsöppningar med dragkedja för önskad ventilation. En overall som har allt man kan önska sig. Perfekt overall för ATV / Snöskoter / Snowboard/ Skidåkning och allt som har med Snowmobile att göra.Konstruktionen är gjord för att hålla bra värme utan att bli alltför klumpig.
PREMIUM produkt innehåller även:
- Mjukare innermaterial för ökad komfort.
- Premium inner lining comfort Pro
- Avtagbar luva
- Innerficka i plast 100% vattentät + vanlig innerficka med dragkedja
- Neopren nacktyg för ökad komfort för nacke
- Värmefodrad med andningsmembran
- Vattentät innerficka för förvaring av mobil etc.
- Avtagbara hängslen för en bra passform
- Värmefodrade fickor
- Reflexer
- Ventilationsfickor med mesh för maximal ventilation
- Storm cuff entry with lycra extensions
- Flertal fickor för förvaring
- Lång bensöppning med dragkedja
- Vattentät med tejpade sömmar med vattenavvisande dragkedjor
Notera att denna produkt går att beställa måttsydd. Vi rekommenderar att man beställer denna produkt måttsydd för bästa möjliga passform. Priset gäller för kroppstorlek upp till 3XL, vid större kroppsstorlek så tillkommer en tilläggskostnad på 250 SEK per överstigen storlek. Tilläggskostnaden beräknas av en handläggare ifrån sharkspeed efter att ha mottagit dina kroppsmått. Leveranstiden ligger mellan 12 - 16 arbetsdagar beroende på säsongsbelastning.
| | | |
| --- | --- | --- |
| Storlek/size | Bröst / Chest (cm) | Mage / Stomach (cm) |
| XS | 91-95 | 83-87 |
| S | 95-99 | 87-91 |
| M | 99-103 | 91-95 |
| L | 103-107 | 95-99 |
| XL | 107-111 | 99-103 |
| 2XL | 111-115 | 103-107 |
| 3XL | 115-119 | 107-111 |
| 4XL | 119-123 | 111-115 |
| 5XL | 123-127 | 115-119 |
| 6XL | 127-131 | 119-123 |
| 7XL | 131-135 | 123-127 |
| 8XL | 135-139 | 127-131 |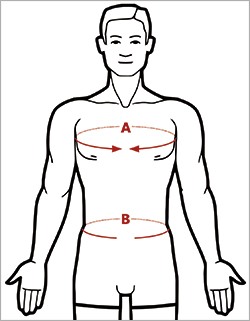 BUY MATCHING PRODUCTS - GET THE FULL LOOK